Software Help > Flash Player
Flash Player
Flash Player is a plugin that is often required to play some types of multimedia (i.e. audio, video). Its installation is specific to the browser you are using. If you install/update Flash Player on Firefox, this does not mean Internet Explorer receives the install/update and vice versa.


Installing
Flash Player may already be installed on your browser. You can check Flash Player in 5 steps at Adobe's Flash Player Help website.

If you do need to install Flash Player, you will be able to by visiting http://get.adobe.com/flashplayer. Before you click the Download button, you can de-select the box for the installing the optional program in the gray box; this additional program is not needed for your course: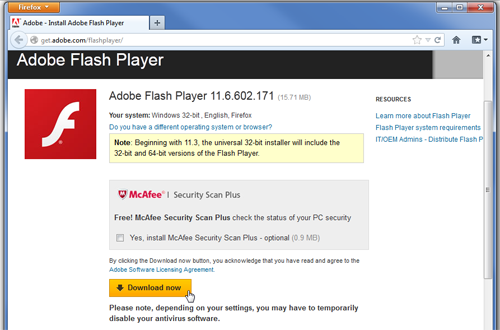 Once you click the Download button, the webpage will conveniently auto-detect which browser you are using and load illustrated, step-by-step instructions for you. You can Run or Save the installer.

If you choose Run, the installer will launch as soon as the download finishes. If you choose Save, you must double-click on the file to run the installation. It's recommended you choose Save so you can reference the instructions Adobe provides you: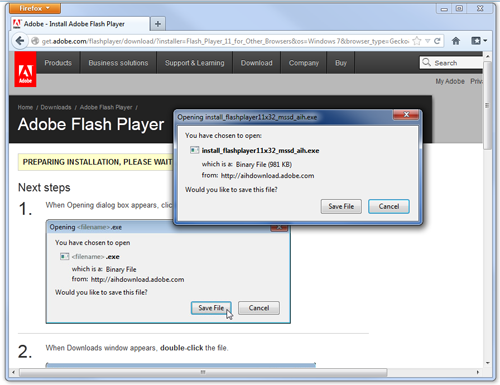 To ensure that Flash Player installs successfully, it's recommended that you close all open browsers before running the installer. After Flash Player confirms that it has installed successfully, verify at the Adobe's Flash Player Help website.
↑ Top of Page