Registration > Registering Your Access Code
Connect for Education Hosted Course
Once you've purchased your 14-character Access Code, you will need to register it to create an account with us. The registration page is located at: www.register.connect4education.com

Select your School first, followed by the Instructor, Semester, and Course. The fields below will auto-populate with the available selections.

Make sure you complete all the required fields (denoted with a blue asterisk (*) symbol).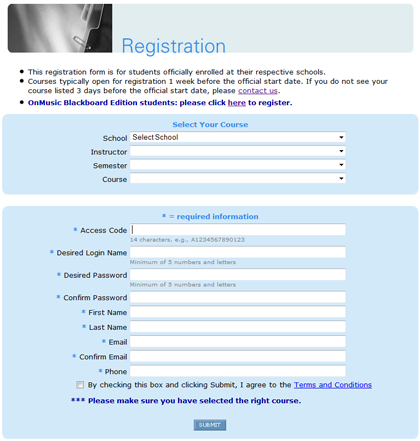 Please double-check everything you entered into the registration form before you click on the Submit button!
Blackboard Hosted Course
If your course is being held entirely in Blackboard and you purchased your 15-character Access Code Voucher from the campus bookstore, please make sure you register your code on our Blackboard Registration page. This process will provide you with the Access Key that you will need to access your course in Blackboard. This registration page is located at www.connect4education.com/bb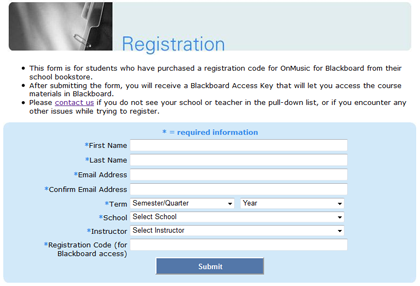 If you purchased the Access Key for a Blackboard course from the Connect for Education online store, you will not need to register the code with Connect for Education. In this case, you can proceed directly to your school's Blackboard website and enter the Access Key you received.
↑ Top of Page