Navigation Bar
Overview
There is a gray navigation bar that runs across the top of your course containing helpful links. Your course's navigation bar may look slightly different or may contain different items, but the major components are all the same (click the image below to enlarge it):



Home
Return to the Home page of your course by clicking this link. It will allow you to view the course Contents & Assignments and Instructor Announcements:



Coursework / Content
This menu option allows you to access the course preamble (containing software requirements and grading scale), written assignments, and see all assignments in the course:

Introduction / Preamble: View the software requirements for course, grading scale, breakdown of assignments
Written Assignments: Access a specific written assignment in your course
Inspect Assignments: View all of the graded assignments in your course






For OnMusic Appreciation students, you will see some different options under this button. One of these options is your Gradebook: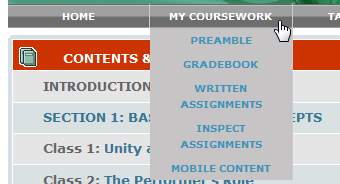 Community
This menu option allows you to access Discussion Forums, find your instructor's email address, or find the email of another classmate:



Settings
This menu option allows you to change the email address associated with your account, update your password, or switch into another course connected to your account:





Please Note: If you are taking the second half of a course, it is your responsibility to contact Support to make sure your account is enrolled in the respective course. Connect for Education is not connected to your college's registrar, and therefore enrollment adjustments are not made automatically for you.
↑ Top of Page