Internet Browsers > Microsoft Internet Explorer
Internet Explorer
Internet Explorer comes pre-installed on all PCs running the Windows operating system. You'll recognize it as that blue letter "E" that sits on your Desktop.

We recommend you use the latest version of Internet Explorer if you choose to use this browser to access your course. This page will go over a couple of available settings in Internet Explorer 9.



Browser / Document Mode
Internet Explorer 9 allows you to view a page with older versions of Internet Explorer (7 and 8). It may sometimes switch these settings without letting you know. This can affect how a webpage renders and functions for you. To verify/set the Browser and Document Mode in Internet Explorer 9, go to Tools and select F12 developer tools: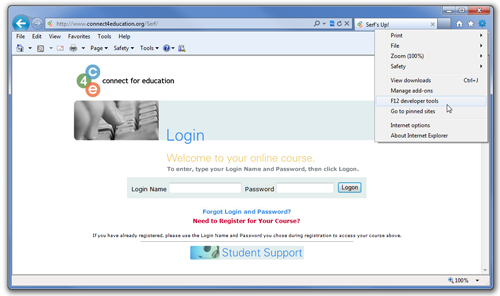 A section will appear at the bottom of your window. For your Connect for Education course, make sure the Browser and Document Modes are set to IE9 / IE9 Standards: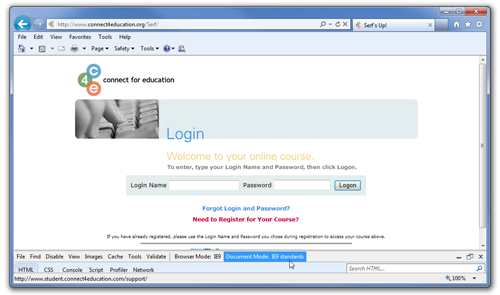 Enable Cookies
Cookies must be enabled for you to log into your Connect for Education course. Cookies should be enabled by default, but you can adjust these settings by going to Tools > Internet options. Then select the Security tab: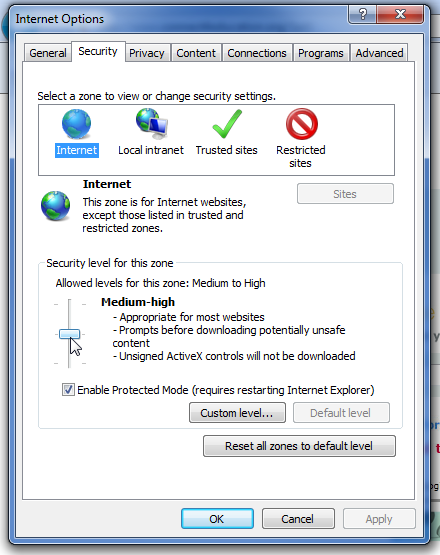 Adjust the security level slider. Medium-high and Medium will work for most websites. The higher the security level, the less information is accepted from a website.

↑ Top of Page